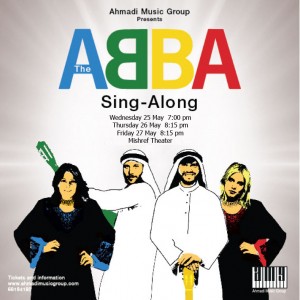 The 70's are back!
Tease the hair, put on the glitter boots, and rock out, as Ahmadi Music Group and the Messila Beach Blues Band lead the first-ever
ABBA Sing-Along in Kuwait.
If you have the outfit, wear it!
This concert is for members of Friends of AMG.  You can buy a membership by making a donation through our ticketing process.
[button link="https://www.ahmadimusicgroup.com/?p=12421″ size="large"]Wednesday 25 May[/button] [button link="https://www.ahmadimusicgroup.com/?p=12428″ size="large"]Thursday 26 May[/button] [button link="https://www.ahmadimusicgroup.com/?p=12433″ size="large"]Friday 27 May[/button]
---