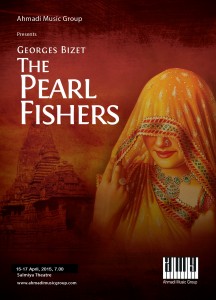 The Pearl Fishers was written by the 25-year old Georges Bizet, who later went on to huge fame as the composer of Carmen.
The opera tells the story of two men, best friends who are reunited after ten years apart. They reminisce about how earlier, they both fell in love with a beautiful woman, but swore to each other that neither would ever speak to her, so that they could be friends, rather than rivals.
Now, the woman returns as a virgin priestess, singing night and day to protect the Pearl Fishers' village from storms and spirits.  Will their love for her re-awaken?  Will she have to choose one or the other?  Will she suffer for breaking her religious vows?
Ahmadi Music Group chorus, orchestra, soloists and the Ballerines dance company joined forces to bring this powerful, romantic and dramatic opera to life in the brand new Salmiya theatre April 2015.